Canaries - Sky Movies Premiere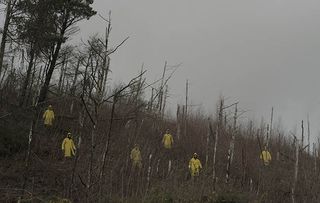 (Image credit: Devilworks)
Craig Russell's cocky expat DJ is among those at a New Year's Eve party in small-town Wales whose celebrations are rudely interrupted by invading aliens
Craig Russell's cocky expat DJ is among those at a New Year's Eve party in small-town Wales whose celebrations are rudely interrupted by invading aliens.
The unlikely location for the invasion gives a nice comic edge to writer-director Peter Stray's smart, low-budget horror comedy.
It's no joke, however, for the hapless friends when a bunch of zombie-like fishermen in canary-yellow oilskins turn up and start slaying people.
Belying his miniscule budget, Stray mixes laughs and scares to good effect and gives his film an international dimension with brief scenes set in Vietnam, Martha's Vineyard and Washington DC, where Men In Black types are keeping tabs on the alien invasion – and also giving a new perspective on the much-vaunted 'special relationship'.
However, that's little comfort for the dwindling survivors battling with the aliens back in Lower Cwmtwrch…
This film premieres on 14 August.
Get the latest updates, reviews and unmissable series to watch and more!
Thank you for signing up to Whattowatch. You will receive a verification email shortly.
There was a problem. Please refresh the page and try again.