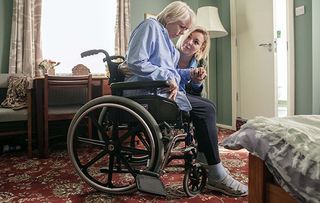 (Image credit: BBC/LA Productions/Dan Prince)
Sheridan Smith stars in a powerful new family drama
Sheridan Smith stars in a powerful new family drama
Sheridan Smith and Alison Steadman should clear some space on their mantelpieces, as some top awards will be heading their way after their outstanding performances in this heart-rending drama.
Co-written by Jimmy McGovern, it sees Alison as doting gran Mary, who suffers a stroke that leaves her with restricted movement and speech as well as dementia.
Daughter Jenny (Sheridan) wants to look after her mum at home, but it becomes clear that Mary needs specialist care – and Jenny, along with her sister Claire (Sinead Keenan), soon finds herself in a battle with the care system.
An emotional and thought-provoking watch.
Here, Sheridan, 37, and Alison, 72, tell TV Times more about this challenging drama…
Can you describe your characters? Sheridan: Jenny's a single mum and has been through a messy breakup. In the opening minutes of the drama, Jenny's mum Mary, who helps her with the girls, suffers a stroke and goes on to develop dementia. Jenny must then decide how she's going to look after her mum with the NHS and with continuing healthcare. It's an incredibly powerful film about a young mum who's struggling.
Alison: Mary is a very lively and fun woman, and suddenly – bang – she has a stroke and it changes her life totally. It's the story of how Mary and her daughters cope, and also how the NHS copes.
What was the appeal of this drama for you? Alison: It's a challenging role, but one that I approached with relish because I thought it was such a worthwhile piece. And Jimmy McGovern is such a good writer that I thought, whatever he gives me I can trust.
Sheridan: I'm a big fan of Jimmy, too. I worked with him years ago on BBC1's Accused. When he said he was working on this script I jumped at the chance. He's a genius.
What have been the biggest challenges? Alison: It's hard to learn to speak 'gobbledegook', but it's good because you see life from a new perspective.
Sheridan: One of the more challenging scenes was when Mary has the accident and Jenny's out looking for her and her daughters. Jenny only hears the crash on the phone, so she doesn't actually know what's happened. I'm getting panicky just thinking about it again.
TV Times rating: *****
Get the latest updates, reviews and unmissable series to watch and more!
Thank you for signing up to Whattowatch. You will receive a verification email shortly.
There was a problem. Please refresh the page and try again.