Casaulty spoilers: It's war! Ciara comes between Dylan and David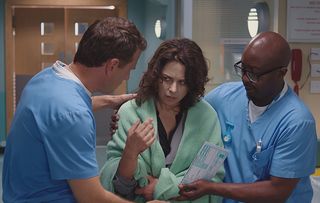 (Image credit: BBC)
Casualty spoilers: Paramedic Iain Dean returns to work, David and Dylan's friendship is in tatters, and Alicia confides in Ethan…
Battle lines are drawn between nurse David Hide and recovering alcoholic Ciara Cassidy when she's brought into the ED slurring her words incoherently this week! Assuming Ciara's fallen off the wagon, David hides her admittance from smitten doctor Dylan Keogh, as he's worried she'll damage Dylan's recovery. When Dylan finds out, however, he viciously turns on David. Their friendship's in tatters, and there are more shocks to follow…
Blood tests reveal Ciara's seriously ill. Meanwhile, Ciara's taken herself off to drown her sorrows in the pub. By the time David and Dylan track her down, she's collapsed and is in need of urgent medical care.
When David remains unrepentant about his treatment of Ciara, she discharges herself, so Dylan decides to pay her a house call where he makes a heart wrenching discovery about Ciara's private life…
Elsewhere, paramedic Iain Dean returns to work after his suspension. Iain's first shout out is dealing with Mia's boyfriend Base, who has overdosed and is homeless since her suicide. Determined to make a difference, Iain offers to help deeply-in-debt and heroin-addicted Base.
Is Iain trying to seek redemption through Base?
Meanwhile, doctor Alicia Munroe worries she's giving Ethan Hardy mixed signals. He's pleased as punch since their kiss, but she's still recovering from her recent trauma involving violent Eddie McAllister.
When Alicia bumps into Ethan after a nightshift, she tells him straight out that she's not ready for a relationship and confesses she hasn't been able to sleep in her bedroom since junior doctor Eddie McAllister sexually assaulted her there. Ethan proves himself to be a friend to fragile Alicia when he later turns up at Alicia's flat with tins of paint and offers to give her bedroom a make-over.
Alicia, delighted by Ethan's considerate gesture, agrees. Can Ethan help Alicia move forward from her assault ordeal? Read our interview with George Rainsford for more on this story
Also this week, Connie has words with Dylan over his treatment of a vulnerable patient and his harsh treatment of David. And paramedic boss Jan Jenning realises she needs to reunite her team as the atmosphere between Iain and co-worker Ruby Sparks is colder than a Canadian winter.
Get the latest updates, reviews and unmissable series to watch and more!
Thank you for signing up to Whattowatch. You will receive a verification email shortly.
There was a problem. Please refresh the page and try again.