The Chronicles of Narnia: The Voyage of the Dawn Treader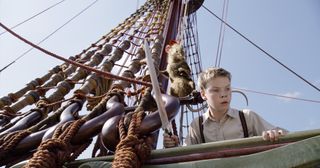 Plucky youngsters Lucy and Edmund (Georgie Henley and Skandar Keynes) return to Narnia
Plucky youngsters Lucy and Edmund (Georgie Henley and Skandar Keynes) return to Narnia. In this third screen adventure based on CS Lewis' much-loved tales, they are accompanied by their annoying cousin Eustace Scrubb (Will Poulter), but without their elder brother and sister, they join their old friend King Caspian (Ben Barnes) aboard his ship for a perilous mission to stop the insidious green mist that is sucking the life from his kingdom. Along the way, there are a variety of hair-raising perils and hazards, including scuffles with slavers and a fierce battle with a scaly, slithery sea monster. Swashbuckling mouse Reepicheep (voiced by Simon Pegg) proves his mettle and Eustace gets transformed into a fire-breathing dragon before the forces of good finally prevail. Barnes' hero is a little bland and the thrills are on the mild side, but Henley delivers another impressive performance and with veteran British director Michael Apted capably steering at the helm, this is rollicking good fun.
Get the latest updates, reviews and unmissable series to watch and more!
Thank you for signing up to Whattowatch. You will receive a verification email shortly.
There was a problem. Please refresh the page and try again.