The Clovehitch Killer - Sky Cinema Premiere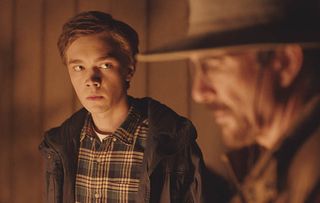 (Image credit: The Movie Partnership)
An all-American teen (Charlie Plummer) suspects that his pillar-of-the-community dad (Dylan McDermott) is a serial killer
An all-American teen (Charlie Plummer) suspects that his pillar-of-the-community dad (Dylan McDermott) is a serial killer.
The family leads a boringly wholesome life - church on Sundays, prayers at mealtimes and attendance at the Scout troop led by McDermott. But a chance discovery leads 16-year-old Plummer to think his father may be responsible for the decade-old murders of 10 women in their town.
Rather than plunging into the nightmare straight away, this crime thriller concentrates on adolescent embarrassment to begin with as Plummer begins snooping into his father's hidden life, helped by a local misfit (Madisen Beaty).
Gradually, however, the squirming gives way to chills and growing suspense. Though the early stages of the teens' investigation carry a whiff of Nancy Drew and their later actions push the bounds of credulity, both Plummer and McDermott are excellent and their scenes together are quite gripping.
This film premieres on Sunday 12th May.
Get the latest updates, reviews and unmissable series to watch and more!
Thank you for signing up to Whattowatch. You will receive a verification email shortly.
There was a problem. Please refresh the page and try again.