Connie's charged with murder!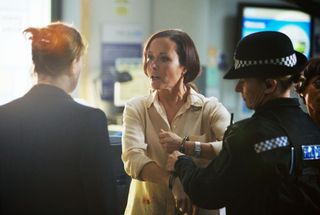 (Image credit: BBC/Simon Ridgway)
Last week we saw Connie being carted off in handcuffs by the police, accused of helping terminally ill patient, Alfred Maxwell, end his life.
Now, after waking up in a cell, Connie faces intense questioning at the police station. They're convinced Connie has motive for murder, as it turns out Alfred (Michael Byrne) recently changed his will so she would inherit £30,000!
As they interrogate the hospital staff about Connie's character, it seems only Charlie is on her side. But even he lands Connie in hot water when he reveals she was in favour of euthanasia!
Meanwhile, nurse manager Rita can't hide her delight at Connie's situation, and wastes no time stamping her own mark on the ED.
Under pressure from the police, Connie finally admits she stole drugs from the medical store, but insists she only gave Alfred two tablets – enough to sedate him but not to kill him.
Knowing the remaining tablets are in her desk drawer as evidence, Connie sees a way out. But her hopes are dashed when conniving Rita nips in to Connie's office to steal the drugs before the police can get to them!
As Connie's charged with Alfred's murder, remorseless Rita seems happy to let her nemesis rot in jail.
Elsewhere, Lofty finds himself attracted to a patient. But when she kisses him, smitten Robyn witnesses the whole thing and is deeply hurt. And Ethan asks his brother, Cal, to move back into their shared flat.
For more, read our recent interview with Amanda Mealing, who plays Connie.
Get the latest updates, reviews and unmissable series to watch and more!
Thank you for signing up to Whattowatch. You will receive a verification email shortly.
There was a problem. Please refresh the page and try again.