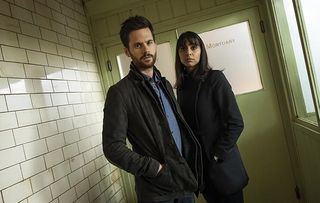 (Image credit: GARETH GATRELL 2018)
Tom Riley stars as a troubled cop in a compelling thriller
It's two years since this crime thriller debuted on ITV Encore but now it's making a welcome return with a six-part series.
Tom Riley is impressive as haunted cop DI Will 'Staffe' Wagstaffe who is finding it hard to move on from the murder of his parents when he was a teenager.
His work doesn't exactly provide him with any light relief, either, and this two-part opener finds him investigating the death of a suspected paedophile.
When a shady QC is targeted, Staffe looks into whether there could be a connection to an earlier case. But the troubled detective is also distracted by his hatred for the boyfriend of his sister Juliette (Charlotte Riley). Continues tomorrow.
TV Times caught up with Tom, 37, in a London bar, where he was filming scenes for the drama, to find out more… For the full interview see TV Times on sale 23 October.
What makes Dark Heart stand out from other detective dramas?
It just feels bigger and more expansive, and it's as much about this guy's personal journey as the cases.
His parents' murder is a cold case, but it's an ongoing mystery. They were killed in a way that implies it was part of something else, and everything he does is based around the idea that maybe something will make sense of it.
How dark are his regular cases? They are nasty and depraved, and there's a real danger that manifests itself over the series.
The monsters he's chasing begin to inform him as a person, so his grip on morality is loose – but not in an 'I'm a maverick cop who doesn't play by the rules' way.
He's plays within the parameters of the law, but he's volatile and goes rogue on a daily basis, and he's suspicious of everybody! His sidekick DC Josie Chancellor [Bodyguard's Anjli Mohindra, pictured top with Tom] thinks he's the type of cop she wants to be, but the scales fall from her eyes.
TV Times rating: ****
Get the latest updates, reviews and unmissable series to watch and more!
Thank you for signing up to Whattowatch. You will receive a verification email shortly.
There was a problem. Please refresh the page and try again.