Deadpool 2 - Sky Cinema Premiere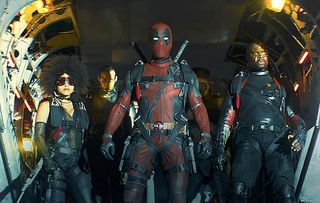 (Image credit: Photographs © 2018 Twentieth Ce)
Ryan Reynolds' snarky Wade Wilson, aka Deadpool, is back for his second solo adventure and he's every bit as hilarious, outrageous, irreverent and fourth-wall breaking as before
Ryan Reynolds' snarky Wade Wilson, aka Deadpool, is back for his second solo adventure and he's every bit as hilarious, outrageous, irreverent and fourth-wall breaking as before.
The film pokes gleeful fun at the superhero movie genre in general and the X-Men franchise in particular. In fact, it begins with a glib dig at Logan (Hugh Jackman's dour swansong as Wolverine), before teeing up a quick burst of carnage, staged with brio by director David Leitch.
We even get a redemptive character arc, of sorts, for Wade. Suicidal when the movie opens, he ends up trying to thwart Josh Brolin's time-travelling cyborg, Cable, from killing teenage mutant Firefist (Julian Dennison) before the rage-filled youngster grows up to become the villain who will murder Cable's family in the future.
To save him Wade assembles a rag-tag band of would-be daredevils, including Zazie Beetz's blithely sassy Domino, for a gag-filled mission. Only comic diehards will get the more obscure in-jokes, but even those with just a passing acquaintance with recent fantasy films will appreciate such snide put-downs as Reynolds' dig at Brolin's grim cyborg: 'You're so dark. Are you sure you're not from the DC universe?'
Get the latest updates, reviews and unmissable series to watch and more!
Thank you for signing up to Whattowatch. You will receive a verification email shortly.
There was a problem. Please refresh the page and try again.