Death and Nightingales – BBC2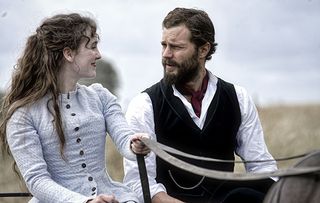 (Image credit: BBC/Night Flight Pictures Ltd 20)
Jamie Dornan stars in Death and Nightingales, a simmering 19th-century romance on BBC2
Some slow-moving period dramas have hot romances within them, but lack the intrigue necessary to keep our interest.
Luckily, Death and Nightingales kicks in midway through the first episode with the arrival of Liam Ward (Jamie Dornan), an Irish merchant from County Fermanagh.
He's soon attracted the attentions of farm girl Beth Winters (Ann Skelly pictured above with Jamie), who is desperate to flee her troubling life with stepfather Billy (Matthew Rhys).
All the action in this three-parter happens over one day in 1885 as Beth hatches a secret plan to be with Liam.
What begins as a story of quiet passion moves on through a series of devastating events…
TV Times sits down to chat with Jamie, 36, who hails from Belfast, and Cardiff-born Matthew, 44, during a break in filming. Here they tell us more about their characters…
Jamie, your character, Liam, isn't all he seems… Jamie: He comes in and turns Elizabeth's world around; he's the catalyst for every major turning point and dramatic event within the story. It's not all deceit and danger – there are nicer aspects to him – so it's fun to play those. I hope viewers warm to him.
Matthew, what's Billy like? Matthew: He's a very staunch Protestant who's raised this girl on his own. But the way that came to pass and his marriage to her mother are besieged with a number of obstacles from the past that Billy is still firmly anchored to. Having lived a relatively work-obsessed life, where in a physical situation it's just him and Elizabeth, that hasn't aided the more complex emotions he feels towards her.
The village is a melting pot of gossip, with political spies everywhere… Matthew: In small communities there's not much excitement going on, so gossip is paramount. There are a lot of curtain- twitchers and wicked whispers – it adds to a ripping yarn!
TV Times rating: ****
Get the latest updates, reviews and unmissable series to watch and more!
Thank you for signing up to Whattowatch. You will receive a verification email shortly.
There was a problem. Please refresh the page and try again.