Downsizing - Sky Cinema Premiere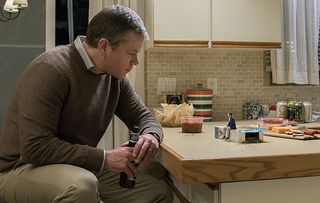 (Image credit: Paramount Pictures)
Matt Damon's well-meaning chump wants to spice up his dull life while doing his bit to save the planet
Matt Damon's well-meaning chump wants to spice up his dull life while doing his bit to save the planet.
So he and his wife (Kristen Wiig) sign up for a futuristic medical procedure designed to shrink them to five inches in height - great for their carbon footprint.
What's more, their equity will go a long way in this new Lilliputian world where a diamond bracelet only costs $83.
Inevitably, though, the reality doesn't quite meet expectations. And it isn't long before Damon discovers that the downsized world also has its haves and have-nots, personified by two new acquaintances - Christoph Waltz's gleefully shifty Serbian entrepreneur and Hong Chau's resourceful one-legged Vietnamese refugee.
Director Alexander Payne's satirical sci-fi comedy has plenty of big ideas, but the plot is too baggy to make them fully count.
Get the latest updates, reviews and unmissable series to watch and more!
Thank you for signing up to Whattowatch. You will receive a verification email shortly.
There was a problem. Please refresh the page and try again.