Emmerdale spoilers: Rhona drops a BOMBSHELL on Vanessa and Paddy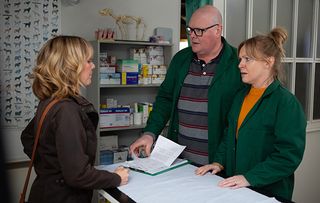 Rhona tells her vet colleagues Paddy and Vanessa that Kim Tate's longlost son Jamie is coming for an interview
So Rhona, Paddy and Vanessa have signed a deal with the devil. Or Kim Tate (Claire King) as she's commonly known. Despite their better judgement, the vets have allowed the business woman to buy a stake in their business in a bid to save their failing practice which has been on the brink of collapse.
But when Rhona (Zoe Henry) informs her colleagues that Jamie Tate, Claire's long-lost son is coming for an interview for a position at the vets', the bombshell news hits hard.
Vanessa (Michelle Hardwick) and Paddy (Dominic Brunt) are gobsmacked knowing that if Jamie's gets hired, his employment will allow Kim to creep ever closer into the heart of everything they've strived so hard to save.
It's fair to say that Rhona – who's now best buds with Kim since their heart-to-heart – has her work cut out as she tries to convince her colleagues that student Jamie could be an asset to their team…
With the team so fractured over all this change and the infamous Tates appearing to be encroaching on their turf, Rhona's positive spin takes a serious knock when Jamie then fails to show!
Where has he got to? And if he ever shows up will Rhona be able to get unimpressed Paddy and Vanessa to give him a fair shot?
Get the latest updates, reviews and unmissable series to watch and more!
Thank you for signing up to Whattowatch. You will receive a verification email shortly.
There was a problem. Please refresh the page and try again.