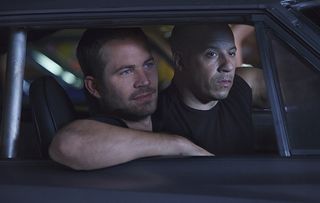 (Image credit: Jaimie Trueblood)
Speed freaks Vin Diesel and Paul Walker are back behind the wheel for the fifth instalment of the high-speed action series
Speed freaks Vin Diesel and Paul Walker are back behind the wheel for the fifth instalment of the high-speed action series.
Even though the plot is now running on fumes, when director Justin Lin cuts to the chase there's enough left in the tank for some spectacular vehicular mayhem.
Diesel's ex-con and Walker's ex-cop are on the lam in Rio de Janeiro with Jordana Brewster, but the trio find themselves up against both the city's drug kingpin (Joaquim de Almeida) and Dwayne Johnson's take-no-prisoners US federal agent.
Undaunted, Diesel assembles a team made up of returning characters from previous episodes of the series to steal $100million of the drug lord's money.
The gang takes an age to plan the heist and the film stalls badly, but everyone pulls things around for the tyre-scorching, metal-crunching climax during which Diesel and co appear to destroy half the buildings and all of the vehicles in downtown Rio.
If the idea of hot cars doesn't leave you cold, put your brain in neutral and enjoy.
Get the latest updates, reviews and unmissable series to watch and more!
Thank you for signing up to Whattowatch. You will receive a verification email shortly.
There was a problem. Please refresh the page and try again.