Final Score - Sky Cinema Premiere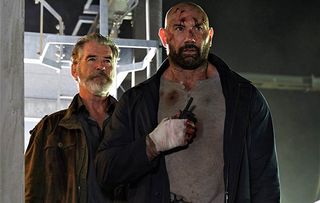 (Image credit: Kerry Brown)
Ever since Bruce Willis's John McClane first donned that grubby vest, filmmakers have worked up a sweat trying to come up with fresh locations in which to place their lone, terrorist-defying heroes
Ever since Bruce Willis's John McClane first donned that grubby vest, filmmakers have worked up a sweat trying to come up with fresh locations in which to place their lone, terrorist-defying heroes. They've given us Die Hard on a bus, a boat, a train, a plane, and even the White House. Now comes Die Hard in a football stadium. On this occasion, the wrong guy in the wrong place at the wrong time is Dave Bautista's Michael Knox, an ex-military-man Yank who just happens to be taking a dead comrade's gobby teenage daughter (Lara Peake) to watch West Ham's final game at Upton Park when heavily armed terrorists seize control of the stadium. Fanatical separatists from the fictional Russian republic of Sekovia, the bad guys have every eventuality covered - save for the appearance of Bautista's hard-nut hero.
Final Score scrupulously follows the Die Hard playbook. It has the confined space and the good guy with a special set of skills, a ticking-clock deadline - the game's 90 minutes, naturally - and someone the protagonist cares about among the potential victims. It also gives us the civilian sidekick - here Amit Shah's goofy stadium steward Faisal - and the loose cannon member of the terror gang who gets enraged after the hero kills someone dear to her. You will be able to tick off half-a-dozen other examples yourselves.
Of course, Final Score can't equal Die Hard's breathless sense of pace and ex-wrestler Bautista - Guardians of the Galaxy's slow-on-the-uptake hulk Drax the Destroyer - is no match for Willis, while Ray Stevenson's Slavic-accented terrorist falls well short of Alan Rickman's sardonic villainy. But director Scott Mann gives the action a fair degree of oomph, Bautista supplies lunk-headed charm and Pierce Brosnan adds class as an enigmatic bearded figure in the stadium crowd. Final Score has its naff moments, for sure, but there's a reason so many films ape Die Hard: the formula really does work.
Get the What to Watch Newsletter
The latest updates, reviews and unmissable series to watch and more!