Flatliners - Sky Cinema Premiere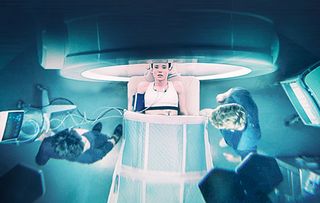 (Image credit: © 2017 Columbia Pictures Indust)
Medical student Ellen Page has the bright idea of taking herself to the brink of death
Medical student Ellen Page has the bright idea of taking herself to the brink of death.
Then she plans to bring herself back to life to report her experiences to colleagues Diego Luna, Nina Dobrev, James Norton and Kiersey Clemons.
Got déjà vu yet? Yes, Kiefer Sutherland and his medic chums (including Julia Roberts and Kevin Bacon) tried this wheeze back in 1990. Things didn't work out too well then, and they don't this time around, either.
This fairly lacklustre sequel doesn't add very much to director Joel Schumacher's flashy horror thriller. The film's jump scares are routine and its hallucinatory visions of the afterlife lack imagination.
Fans of the original, however, may care to know that Sutherland is back, playing the gang's brusque professor.
This movie premieres on 30 June.
Get the latest updates, reviews and unmissable series to watch and more!
Thank you for signing up to Whattowatch. You will receive a verification email shortly.
There was a problem. Please refresh the page and try again.