Forgetting Sarah Marshall - ITV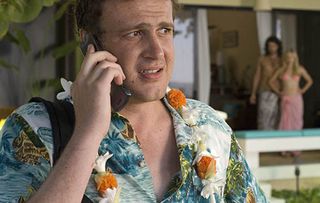 Russell Brand is a scream as a British rock star who steals American TV star Sarah Marshall (Kristen Bell) from her long-time boyfriend Jason Segel
Russell Brand is a scream as a British rock star who steals American TV star Sarah Marshall (Kristen Bell) from her long-time boyfriend Jason Segel.
Segel is heartbroken and goes to Hawaii to cheer himself up, only to discover that Bell and Brand staying in the same hotel!
The film has plenty of rude gags, but what makes this a great comedy is that most of the humour is character-driven. With his puppy dog sad eyes, Segel (who also scripted) couldn't be more of a contrast to the live-wire Brand, but he plays his love-lorn nerd to perfection.
Brand is a film-stealing joy and Mila Kunis, as a hotel receptionist on hand to help Segel forget Bell, and Jonah Hill, as a waiter, also have great roles.
Hill and Brand reprised their characters for 2010's Get Him to the Greek.
Thank you for signing up to Whattowatch. You will receive a verification email shortly.
There was a problem. Please refresh the page and try again.