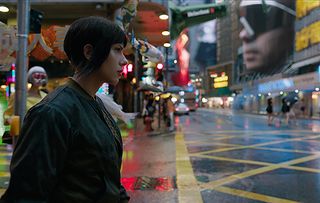 (Image credit: Paramount Pictures)
Cutting a striking figure, Scarlett Johansson dives off skyscrapers and scraps with bad guys in this sleek sci-fi thriller
Cutting a striking figure, Scarlett Johansson dives off skyscrapers and scraps with bad guys in this sleek sci-fi thriller.
A live-action remake of the 1995 Japanese anime based on a cult Manga series, the film stars Johansson as a human-cyborg hybrid revived by a robotics corporation after a terrible accident, her human brain (her 'ghost') kitted out with an enhanced synthetic body (her 'shell').
Now she's a warrior for a government anti-terror unit, but when she goes into action against a mysterious hacker who is killing the corporation's scientists, she comes to question her own memories and identity.
Director Rupert Sanders borrows considerably from the 1995 original, copying some scenes shot for shot, while its quasi-philosophical musings on what it means to be human are more show than substance.
But the action is a blast and Johansson is fabulous, once more channelling the otherworldly vibe she displayed so distinctively in such films as Lucy, Under the Skin and Her. And she gets great support from Pilou Asbæk as her burly, loyal colleague, Juliette Binoche as a maternal scientist and Japanese icon 'Beat' Takeshi Kitano as her old-school boss.
Get the latest updates, reviews and unmissable series to watch and more!
Thank you for signing up to Whattowatch. You will receive a verification email shortly.
There was a problem. Please refresh the page and try again.