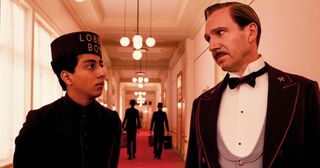 (Image credit: Moviestore/REX/Shutterstock)
This five-star treat of a film stars an exquisitely funny Ralph Fiennes as the dapper concierge of a deluxe spa hotel occupying an imaginary corner of Central Europe between the wars
This five-star treat of a film stars an exquisitely funny Ralph Fiennes as the dapper concierge of a deluxe spa hotel occupying an imaginary corner of Central Europe between the wars.
He presides over his domain with unflappable aplomb, even when he and his lobby boy (Tony Revolori) are thrust into a perilous caper involving murder, art theft and a staggeringly large family fortune.
Wes Anderson's film pampers the viewer with its sumptuous visual delights, sparkling dialogue and absurdly enjoyable comic intrigue and also offers up a charming rogues' gallery of familiar faces in supporting roles, including Willem Dafoe, Jeff Goldblum, Edward Norton, Jason Schwartzman, Tilda Swinton and Bill Murray.
Thank you for signing up to Whattowatch. You will receive a verification email shortly.
There was a problem. Please refresh the page and try again.