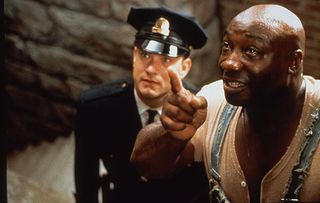 (Image credit: Contract Number (Programme))
Tom Hanks is a death row prison guard in 1935 Louisiana and gentle giant Michael Clarke Duncan is a hulking new inmate
Tom Hanks is a death row prison guard in 1935 Louisiana and gentle giant Michael Clarke Duncan is a hulking new inmate.
He calmly waits to walk the green mile to the electric chair, but it soon becomes clear that he is no ordinary prisoner and appears to possess magical healing powers…
Based on the Stephen King story, the movie delivers suspense, but also pays equal attention to fleshing out its characters.
Sadistic guard Doug Hutchison (in a scene-stealing turn) and snarling inmate Sam Rockwell make their scenes crackle with malicious intent. Hanks proves again that, when it comes to playing sensitive heroes, he has few equals.
His performance, plus a touching supernatural angle, electrifying tension and, not least, a pet mouse, make this enthralling viewing.
Thank you for signing up to Whattowatch. You will receive a verification email shortly.
There was a problem. Please refresh the page and try again.