Guardians of the Galaxy Vol. 2 - Netflix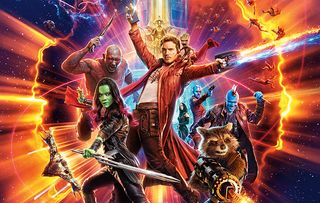 (Image credit: ©Marvel Studios 2017)
Chris Pratt's cocksure space adventurer Peter Quill and his band of kooky misfits are back for another intergalactic caper
Chris Pratt's cocksure space adventurer Peter Quill and his band of kooky misfits are back for another intergalactic caper.
The mix of tongue-in-cheek banter and even more tongue-in-cheek action is much as before, though this time the gang's antics lack the fizz of their first outing.
Even so, the opening sequence is guaranteed to put a smile on your face as Baby Groot, sprig offshoot of Vin Diesel's walking tree in the first film, grooves away to ELO's Mr Blue Sky while Peter and his companions flail away in the background, attempting to defeat an alien monster.
Most of returning writer-director James Gunn's plot is concerned with daddy issues, though, with a sidebar of sister strife, as Peter encounters his celestial father Ego (Kurt Russell) for the first time, while Zoe Saldana's green-skinned Gamora pursues her feud with cyborg sister Nebula (Karen Gillan).
The tiffs and spats sometimes hold up the action, at one point prompting this request from Gamora: 'Can we put the bickering on hold until after we survive this massive space battle?'
The film is a tad overlong, but fans of the original will find the Guardians - including Bradley Cooper's wiseass talking raccoon Rocket and Dave Bautista's dim hulk Drax - as endearingly disreputable as ever and they'll still get a kick from the killer 1970s pop and knowing pop-culture references, which this time embrace everything from Fleetwood Mac's The Chain to Mary Poppins and David Hasselfhoff.
Get the latest updates, reviews and unmissable series to watch and more!
Thank you for signing up to Whattowatch. You will receive a verification email shortly.
There was a problem. Please refresh the page and try again.