Harry Potter and the Chamber of Secrets - ITV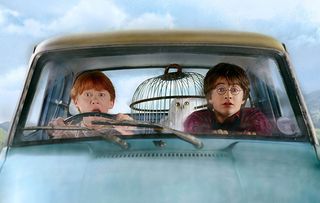 (Image credit: Photo: Courtesy of Warner Bros.)
One of the best films of the entire series, this stupendous second movie sees Harry Potter (Daniel Radcliffe) back at Hogwarts
One of the best films of the entire series, this stupendous second movie sees Harry Potter (Daniel Radcliffe) back at Hogwarts.
He's older, wiser and even more capable of flexing his wizard skills, with help of course from pals Ron (Rupert Grint) and Hermione (Emma Watson), which is just as well with the future of the school under threat.
Mischief comes first in the form of big-eared house elf Dobby. A brick wall of a problem at platform nine and three quarters at King's Cross Station means that Harry and Ron have to use a flying car to get to school on time and then have a close encounter with a violent tree - both superb pieces of special effects wizardry. Then, once inside the school walls, Harry's up against some nefarious scheming that draws him right into the middle of the mysterious Chamber of Secrets.
It's the mark of a compulsive tale well told that this very long film flies by. The jokes, clever ideas and cranky characters are non-stop and the finale has some exuberant fun at the expense of Kenneth Branagh's dark arts teacher, while also featuring one of the best screen monsters since special effects master Ray Harryhausen retired from film-making. And, not least, we learn that most vital of gardening skills - how to repot a squealing mandrake plant!
Get the What to Watch Newsletter
The latest updates, reviews and unmissable series to watch and more!