Harry Potter and the Deathly Hallows: Part II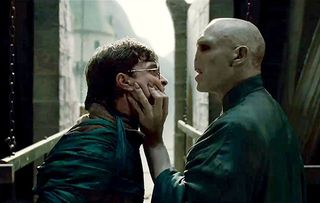 (Image credit: Courtesy of Warner Bros Pictures)
Harry (Daniel Radcliffe), Ron (Rupert Grint) and Hermione (Emma Watson) return for the last time - and it's a spellbinding conclusion after 10 years and seven other films
Harry (Daniel Radcliffe), Ron (Rupert Grint) and Hermione (Emma Watson) return for the last time - and it's a spellbinding conclusion after 10 years and seven other films.
Director David Yates and his creative team are at the top of their game and do full justice to JK Rowling's intricately plotted saga.
We're a long way from the high jinks and humour of early movies: be prepared for a dark and thrilling ride when Voldemort's army of Death Eaters prepares to launch a final assault on Hogwarts as Harry, Ron and Hermione race to find the final fragments of the Dark Lord's soul in order to defeat him.
Longtime Potter spotters will take delight in appearances by most of the series' beloved characters: Maggie Smith's wry Professor McGonagall, of course, David Thewlis' stoic Remus Lupin, the mischievous Weasley twins (James and Oliver Phelps) and many more.
Some familiar faces pop up on the fringes of the action - look out for a glimpse of Filch (David Bradley), Hogwarts' curmudgeonly caretaker, grimly applying his broom to a corner of the rubble-strewn castle in the aftermath of battle.
Other characters who once seemed peripheral to the main thrust of the story now turn out to play a crucial role - especially Matthew Lewis' sword-wielding Neville Longbottom.
But it's Radcliffe, Grint and Watson who dominate and they have matured wonderfully - especially Radcliffe, who more than holds his own against Ralph Fiennes' Voldemort in their titanic, brilliantly staged climactic showdown.
Get the latest updates, reviews and unmissable series to watch and more!
Thank you for signing up to Whattowatch. You will receive a verification email shortly.
There was a problem. Please refresh the page and try again.