The Huntsman: Winter's War - Channel 4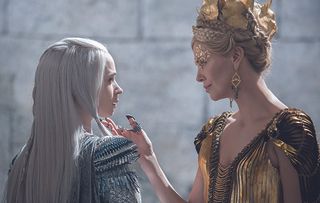 (Image credit: © Universal Studios 2016)
Chris Hemsworth's second outing as the title hero sees him taking on Emily Blunt's villainous ice queen
Chris Hemsworth's second outing as the title hero sees him taking on Emily Blunt's villainous ice queen.
This new adventure does duty as both prequel and sequel to 2012's fairytale fantasy Snow White and the Huntsman.
Blunt is Freya, sister of Charlize Theron's Ravenna, who started out nice but has turned bad after a tragedy froze her heart. The job of stopping her evil designs falls to Hemsworth's strapping Eric and fellow huntsperson Sara (Jessica Chastain), both of whom were abducted as children to serve in Freya's kingdom-conquering army.
Along the way, they pick up some comic-relief sidekicks - a quartet of squabbling dwarves played by Nick Frost, Rob Brydon, Sheridan Smith and Alexander Roach, who fill in gaps in the action with battle-of-the-sexes badinage.
Hemsworth and Chastain's heroes are a trifle dull and their derring-do fairly routine, but Blunt and Theron's fabulously attired siblings make the movie a big, camp blast.
Get the latest updates, reviews and unmissable series to watch and more!
Thank you for signing up to Whattowatch. You will receive a verification email shortly.
There was a problem. Please refresh the page and try again.