Inside the Bruderhof – BBC1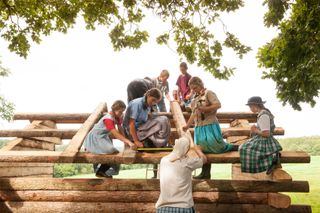 (Image credit: BBC/CTVC/The Bruderhof)
New BBC1 documentary Inside the Bruderhof visits the Bruderhof community, where members lead a life free of modern-day trappings
BBC1's one-off documentary Inside the Bruderhof lifts the lid on life inside a radical Christian community called the Bruderhof, which adopts a back-to-basics lifestyle, communal living and sharing.
Founded in Germany in 1920, the Bruderhof ('place of brothers' in German) has almost 3,000 members living in 23 settlements worldwide, and here we visit the village of Darvell in East Sussex.
There's no rich or poor; no crime, debt or homelessness, and no one worries about mortgages or pensions.
Everyone works but no one earns a wage.
Also, children have no access to TV or phones and are encouraged to interact with each other rather than a screen.
A fascinating and eye-opening watch.
'We have a low-stress way of life,' says member Bernard Hibbs, 38, who was nine years old when his parents joined the Bruderhof.
'We don't worry about mortgages or pensions. We live communally and share all our possessions.
'The only criterion is that people feel a calling by God.
'But joining can be a long process because it is a lifetime commitment.
'People can leave, though,' he assures.
'In fact, we encourage all members at 18 to go and live in mainstream society before they fully commit.'
This will be shown in Northern Ireland at 11.05pm and Wales at 11.15pm.
TV Times rating: ****
Get the latest updates, reviews and unmissable series to watch and more!
Thank you for signing up to Whattowatch. You will receive a verification email shortly.
There was a problem. Please refresh the page and try again.