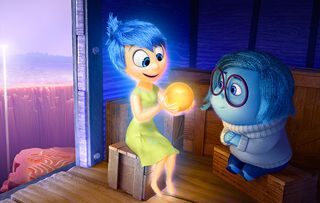 (Image credit: Pixar)
Pixar's brilliant animated movie brings a young girl's growing pains to life with dazzling wit and tender wisdom
Pixar's brilliant animated movie brings a young girl's growing pains to life with dazzling wit and tender wisdom.
Five personified emotions live inside 11-year-old Riley's head: Joy (voiced by Amy Poehler), who is wide-eyed, fairy-like and permanently buoyant; Fear (Bill Hader), a bow-tie-wearing nervous nellie with startled eyebrows that levitate above his head; Anger (Lewis Black), squat and pugnacious, his fuse as short as his sleeves; Disgust (Mindy Kaling), chic and fastidious with a particular antipathy for broccoli, and Sadness (Phyllis Smith), droopy and blue beneath owlish spectacles and a chunky white turtleneck.
They guide Riley's feelings from a control desk, processing her new memories as they arrive at their HQ. Joy takes the lead, until Riley is uprooted from Minnesota to San Francisco when her father takes another job. The turmoil of the move triggers a crisis that leads to Joy and Sadness being stranded in the outer reaches of Riley's mindscape.
Their struggle to make it back to their colleagues and prevent further disaster works as an engaging adventure packed with colour and incident, while also cleverly and humorously mapping out the workings of the brain.
Along the way, the duo pass through the alarmingly surreal zone of Abstract Thought, encounter the Dream Factory, which resembles a Hollywood soundstage in full swing, try to hitch a ride on a chugging Train of Thought and learn that sadness is as valuable as joy in the creation of a healthy psyche.
Get the What to Watch Newsletter
The latest updates, reviews and unmissable series to watch and more!