Isle of Dogs - Sky Cinema Premiere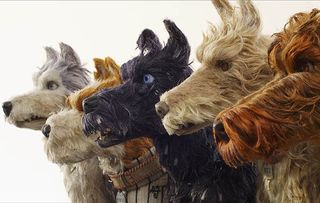 (Image credit: © 2018 Twentieth Century Fox Fi)
Director and co-writer Wes Anderson, maker of 2009's Fantastic Mr Fox, comes up with a similarly quirky, irresistible stop-motion animated escapade
Director and co-writer Wes Anderson, maker of 2009's Fantastic Mr Fox, comes up with a similarly quirky, irresistible stop-motion animated escapade.
The setting is a fictional metropolis in a near-future Japan whose canine-hating mayor has banished all dogs from the city and quarantined them on an offshore refuse dump. Six months later, hope springs for the stranded pooches when intrepid 12-year-old Atari, the mayor's orphaned nephew, hijacks a plane and crash-lands on Trash Island, bidding to rescue his loyal bodyguard dog, Spots.
A pack of alpha dogs, including stubborn former stray Chief (voiced by Bryan Cranston), come to his aid and end up joining the rescue mission.
Meanwhile, back in the city, feisty American exchange student Tracy (Greta Gerwig) is trying to expose the political conspiracy behind the dogs' exile.
Anderson and his team tell this tale with offbeat humour and immense charm. Everywhere you look, the screen teems with playful detail (even the title is a delightful pun, 'I Love Dogs'). Anderson draws deeply and affectionately from Japanese culture, taking in taiko drummers, sumo wrestlers, Hokusai prints and Kurosawa movies to name but a fraction.
He has a pedigree voice cast, too, with the likes of Scarlett Johansson, Bill Murray, Jeff Goldblum and Edward Norton adding their individual stamp among the dogs.
The resulting whole is immensely touching and huge fun. Plus, beneath the film's whimsical surface, there are serious and timely points about fear-mongering and scapegoating.
Get the latest updates, reviews and unmissable series to watch and more!
Thank you for signing up to Whattowatch. You will receive a verification email shortly.
There was a problem. Please refresh the page and try again.