Jack Reacher: Never Go Back - Film4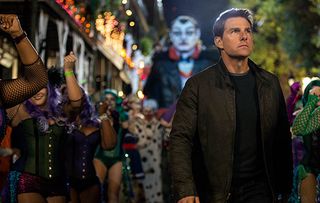 (Image credit: © 2016 PARAMOUNT PICTURES.  AL)
Tom Cruise follows up his 2012 outing as freelance righter of wrongs Jack Reacher with another round of bruising vigilante action
Tom Cruise follows up his 2012 outing as freelance righter of wrongs Jack Reacher with another round of bruising vigilante action.
And once again, despite standing nearly a foot shorter than author Lee Child's larger-than-life hero does on the page, his armour-plated confidence carries us along with his far-fetched feats of derring-do.
The movie finds the ex-army cop-turned-rootless drifter striking up a flirtatious rapport over the phone with his military police successor, Colbie Smulders' briskly capable Major Susan Turner.
However, when he turns up in Washington DC for a date with her, he discovers she has been arrested for treason. Naturally, he quickly deduces dodgy goings on - and, of course, he's right.
A private military contractor has framed Turner to cover up its underhand dealings in Afghanistan. Worse still, it has dispatched a ruthless hitman (Patrick Heusinger) to dispose of the human evidence. Fear not - for even though Reacher's suddenly been saddled with a 15-year-old runaway (Danika Yarosh), who may or may not be his biological daughter, we can be sure the dauntless, ever-resourceful hero will ultimately foil the bad guys' squadron of thugs and unravel the conspiracy.
Cruise throws himself into the action with gusto, but Reacher's invincibility does take the edge off the suspense. What is unexpected, however, is the engagingly sparky, almost romcom-like bond between Cruise and Smulders, which makes the lulls in the action a treat.
Get the latest updates, reviews and unmissable series to watch and more!
Thank you for signing up to Whattowatch. You will receive a verification email shortly.
There was a problem. Please refresh the page and try again.