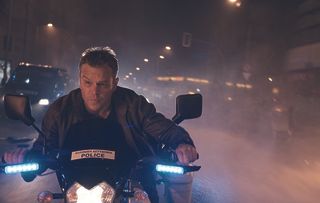 (Image credit: © Universal Pictures)
Nine years after his last Bourne outing, Matt Damon's amnesiac hero is still grappling with his past as a CIA assassin
Nine years after his last Bourne outing, Matt Damon's amnesiac hero is still grappling with his past as a CIA assassin.
Pulled back into the deadly world of black-ops skulduggery by Julia Stiles' CIA whistleblower, he launches himself into yet another punishing solo mission to uncover the agency's deceptions.
Along the way, the story touches on the hot-button issues of global surveillance and internet security - a key figure in the plot is a social media tycoon (Riz Ahmed).
But in most other respects the narrative is very much a re-run of previous instalments. Again, Bourne is up against a grizzled white male with a shady agenda, here Tommy Lee Jones' CIA boss. Again, there is a hotshot woman keen to prove she is a match for her male peers - here Alicia Vikander's rising CIA star – and, again, Bourne finds himself shadowed by a rival assassin, here a brutally ruthless figure played by Vincent Cassel.
Even though the series really needs some genuinely fresh plot twists and ideas, there is no danger of nodding off. Director Paul Greengrass (maker of the second and third Bourne films) deploys hand-held cameras and quick-fire editing to electrifying effect, giving a thrillingly urgency to the familiar scenes of chase and combat - and the exhilarating episode set against the backdrop of a ferocious anti-austerity riot in Athens is a series standout.
Get the What to Watch Newsletter
The latest updates, reviews and unmissable series to watch and more!