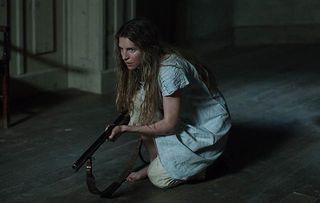 (Image credit: © Lionsgate Entertainment 2016)
Brit Marling heads the cast of this feminist Western set towards the end of the American Civil War
Brit Marling heads the cast of this feminist Western set towards the end of the American Civil War.
Marling's Southern belle, her sister Hailee Steinfeld and their black servant Muna Otaru have to defend their remote home from two marauding Union soldiers (Sam Worthington and Kyle Soller).
Julia Hart's screenplay vividly conveys the way the war has changed the dynamics of sex and race, while British director Daniel Barber generates anxiety-inducing tension from the film's spare, slow-burn build-up towards its inevitable violent showdown.
Thank you for signing up to Whattowatch. You will receive a verification email shortly.
There was a problem. Please refresh the page and try again.