Kramer vs Kramer - Sony Movie Channel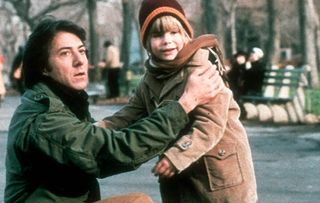 (Image credit: Alamy Stock Photo)
Unhappy Meryl Streep walks out on her workaholic husband Dustin Hoffman and their little son Justin Henry
Unhappy Meryl Streep walks out on her workaholic husband Dustin Hoffman and their little son Justin Henry.
Then, as dad and son, at first virtual strangers, gradually start to bond, Streep regrets her decision and, months later, a bitter custody battle ensues.
Filmed in sequence so Hoffman and Henry got to know each other and cleverly making both Hoffman and Streep sympathetic characters, this weepie is riveting, heartfelt entertainment of the highest order.
Using short, poignant scenes to illustrate the way all three are affected by the trauma of separation is a master stroke - the scenes at the beginning and end of the movie when Hoffman makes Henry breakfast are particularly touching.
The film won five Oscars, for Hoffman and Streep (in her first major role), director and screenplay for Robert Benton and Best Picture. Henry was nominated, still the youngest nominee in Academy Awards history.
Get the latest updates, reviews and unmissable series to watch and more!
Thank you for signing up to Whattowatch. You will receive a verification email shortly.
There was a problem. Please refresh the page and try again.