Kubo and the Two Strings - C4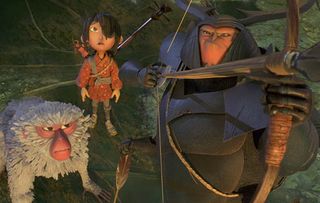 (Image credit: © 2016 Focus Features LLC and T)
In a mystical ancient Japan, young hero Kubo (voiced by Art Parkinson) flees powerful enemies
In a mystical ancient Japan, young hero Kubo (voiced by Art Parkinson) flees powerful enemies.
This spellbinding stop-motion animation (from Laika, the studio behind Coraline, ParaNorman and The Boxtrolls) celebrates the art of storytelling. Kubo supports his sickly mother by telling stories in his village, which are enchantingly acted out by magical origami figures in response to the music of his lute-like three-stringed shamisen.
But his vengeful grandfather, the Moon (Ralph Fiennes), who stole one of his eyes when he was a baby, won't rest till he has the other - so to stay safe Kubo must return home before dark. However, one day he stays out after sunset and his evil aunts strike. Kubo flees, accompanied by a monkey (Charlize Theron) and a half-human half-beetle amnesiac fallen samurai (Matthew McConaughey).
The trio's adventures are by turns comical, gripping and creepy, but what casts the film's most potent spell is the exquisite, bewitching animation.
Get the latest updates, reviews and unmissable series to watch and more!
Thank you for signing up to Whattowatch. You will receive a verification email shortly.
There was a problem. Please refresh the page and try again.