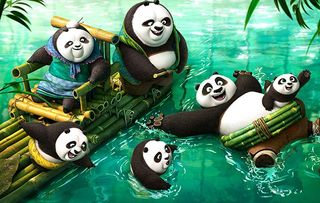 (Image credit: © 2015 DreamWorks Animation, L.)
Roly-poly martial-arts hero Po, the bumbling, dumpling-loving panda voiced by Jack Black, remains as endearingly comical as ever
Roly-poly martial-arts hero Po, the bumbling, dumpling-loving panda voiced by Jack Black, remains as endearingly comical as ever.
His third screen adventure finds him using a winning mix of clumsiness and pluck to take the step from warrior to teacher with predictably topsy-turvy consequences for his fellow kung-fu masters, the Furious Five (Angelina Jolie's Tigress, Jackie Chan's Monkey, Seth Rogen's Mantis, Lucy Liu's Viper and David Cross's Crane).
Po faces a far bigger challenge, though, when supernatural villain Kai (JK Simmons) escapes from the spirit realm and sets about plundering the life force from every kung fu master he defeats.
Fortunately, Po's newly discovered biological dad, Li Chan (Bryan Cranston) is by his side, along with the tubby inhabitants of his long-hidden ancestral village.
The ensuing, beautifully animated showdown lives up to the series' hugely enjoyable blend of rumbustious comedy and action.
Get the What to Watch Newsletter
The latest updates, reviews and unmissable series to watch and more!