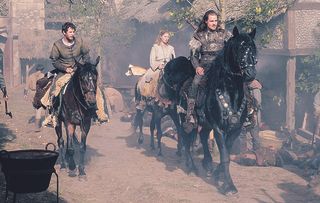 (Image credit: BBC/Carnival/Des Wille)
Ladies' man Uhtred (Alexander Dreymon) is on the lookout for his latest conquest, 'showing off his feathers' with a spot of combat training while King Guthred's sister Gisela looks on admiringly
Ladies' man Uhtred (Alexander Dreymon) is on the lookout for his latest conquest, 'showing off his feathers' with a spot of combat training while King Guthred's sister Gisela looks on admiringly.
But since the warrior's last girlfriend ended up headless, perhaps she should tread carefully. Surely Hild (Eva Birthistle), whose idea of self-improvement is to decapitate dead Danes, would be a better match?
Meanwhile, as the quest inspired by the abbot's dream continues in Cumberland and Northumbria, a group of Danes arrive to offer their swords to Guthred – which is not at all suspicious.
And with the abbot busy plotting against 'the long-haired peacock' Uhtred, there may be trouble ahead…
Thank you for signing up to Whattowatch. You will receive a verification email shortly.
There was a problem. Please refresh the page and try again.