The Last of the Mohicans - 5Spike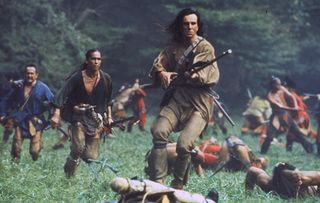 It's 1757 and Britain and France are fighting for control of North America
It's 1757 and Britain and France are fighting for control of North America. Daniel Day-Lewis is Hawkeye, a frontiersman who mostly lets his rifle do the talking, Madeleine Stowe is the prim officer's daughter he keeps having to rescue and Eric Schweig and Russell Means are his Mohican sidekicks.
Director Michael Mann's elegant adventure movie is crammed full of suspenseful action, lush scenery and brooding character conflict. Wes Studi dominates the screen as the evil Magua ('When the Grey Hair is dead, Magua will eat his heart!' he says of one unfortunate British officer) and the staging of the action scenes includes some incredible bouts of sprinting, tomahawk throwing and musketry.
It's sometimes brutal, but the film also succeeds in its more reflective moments. The night-time siege of the British fort and the hideout behind the waterfall, in particular, are scenes which ooze movie magic.
Thank you for signing up to Whattowatch. You will receive a verification email shortly.
There was a problem. Please refresh the page and try again.