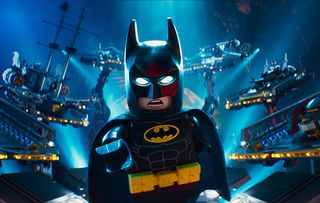 (Image credit: © 2016 Warner Bros. Entertainme)
Zach Galifianakis voices the Joker in an entertaining caper for the plastic brick Caped Crusader
Zach Galifianakis voices the Joker in an entertaining caper for the plastic brick Caped Crusader.
Following his scene-stealing cameo in 2014's enchantingly loopy The Lego Movie (screening at 5.00pm, Channel 5 on New Year's Eve), the plastic brick caped crusader gets his own solo movie - and it is just as daft, just as endearing and just as funny as its predecessor.
Once more, the film's magic formula is its mix of irreverence and affection. Batman (again voiced by Will Arnett) is a raging egomaniac who behaves like a selfish child. He's convinced of his own brilliance, spurns human contact and insists on working alone.
This naturally leads to disaster when the Joker succeeds in freeing a host of astrally imprisoned supervillains and monsters, including the Wizard of Oz's Wicked Witch, Harry Potter's Voldemort, the Lord of the Ring's Sauron, Godzilla, King Kong and 'some British robots' ('Ask your nerd friends').
To put things right, Batman must lose his fear of feeling and accept help from his surrogate family: father-figure butler Alfred (Ralph Fiennes), adopted son Robin (Michael Cera) and secret crush Barbara Gordon (Rosario Dawson), Gotham City's new police commissioner.
The Lego Batman Movie truly is a joy. Its spoofing of comic-book convention and superhero solemnity is spot on. The gags-per-minute ratio is phenomenal - and it leaves 2016's po-faced Batman v Superman movie looking like so much plastic rubble.
Get the What to Watch Newsletter
The latest updates, reviews and unmissable series to watch and more!