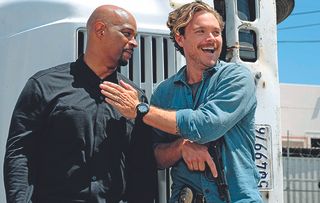 (Image credit: ITV / Warner Bros)
A tough case brings Riggs and Murtaugh into contact with a familiar face
The mismatched detectives are both reconnecting with the past in this week's episode, as Riggs is contacted by his late wife's family and Murtaugh runs into an ex-cop he used to work with while investigating a security van heist.
The case Riggs and Murtaugh are working on has connections to a particularly brutal drugs cartel, whose leader likes to torture his victims with a cattle prod before severing their heads.
Fortunately, there's a spot of light relief as well tonight, with Riggs using his television as target practice and Murtaugh finding his attempts to deliver a romantic speech to Trish (Keesha Sharp, The People vs O.J. Simpson) on date night repeatedly thwarted.
Thank you for signing up to Whattowatch. You will receive a verification email shortly.
There was a problem. Please refresh the page and try again.