The Light Between Oceans - BBC2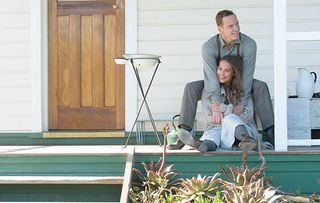 (Image credit: Davi Russo)
Michael Fassbender stars as a shell-shocked lighthouse keeper in this well-acted weepie
Michael Fassbender stars as a shell-shocked lighthouse keeper in this well-acted weepie.
On a remote island off the coast of Western Australia in the aftermath of World War One, he and his wife (Alicia Vikander) make a fateful decision after a rowboat holding a dead man and a live baby washes ashore.
Based on ML Stedman's best-selling novel, this old-fashioned tearjerker boasts lush photography, a sweeping score and a stellar cast.
However, its determined assault on the tear ducts is not as moving as it should be, hampered by the melodramatic and manipulative contrivances and symbol-laden setting, suggestive of rocky loneliness and storm-tossed emotions.
Still, Fassbender and Vikander's combined screen charisma could easily power the lighthouse by itself and Rachel Weisz does a terrific job, too, as the baby's tormented biological mother, the third part of the story's dramatic triangle.
This film starts at 10.10pm on BBC2 Wales.
Get the latest updates, reviews and unmissable series to watch and more!
Thank you for signing up to Whattowatch. You will receive a verification email shortly.
There was a problem. Please refresh the page and try again.