Little Drummer Girl – BBC1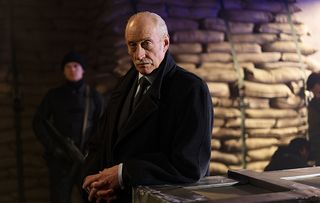 (Image credit: BBC / The Little Drummer Girl Di)
Kurtz and Becker fear that Charlie's loyalties may have shifted as The Little Drummer Girl concludes
Charlie and notorious terrorist Khalil plan to bomb a London university in this gripping finale, yet is this part of the actress's greatest ever performance or has she joined the Palestinians for real?
Blink and you might miss something important, as the superb cast – not least the steely-eyed Charles Dance, who plays Intelligence Officer Picton – really come to the boil in this cerebral climax.
TV Times rating: *****
5 big questions for the finale of The Little Drummer Girl
The Little Drummer Girl's executive producer Simon Cornwell, son of author John le Carré, gives us some clues…
1 Where do Charlie's loyalties lie?
'The reason we're not sure where Charlie stands is because Charlie isn't quite sure where she stands!' says Simon. 'She grew close to the Palestinians in Lebanon and was deeply affected by the bombing of the camp, so she's struggling to get things straight in her mind.'
2 Has Becker (played by Alexander Skarsgård) lost faith in the mission?
'Becker is becoming more torn,' explains Simon. 'He wanted to work like a surgeon rather than a butcher, but the bodies are piling up and Charlie seems to be in more danger than ever. It depends if he still has faith in Kurtz and the cause he's fighting for...'
3 Can Kurtz (Michael Shannon) and Becker trust Picton?
'Commander Picton doesn't have a lot of time for Israelis,' Simon says of the British intelligence officer, played by Charles Dance (pictured top). 'Underneath it all he's a very ruthless man who doesn't like being used. He knows what Kurtz and his team are up to and he has to swallow it. Can they work together to catch Khalil?'
4 Have the Israelis underestimated Khalil?
'Kurtz knows that Khalil would enjoy seeing a British girl carrying out an attack on British soil,' says Simon. 'But it's possible they've still underestimated his intelligence and commitment. We know he's there to plant a bomb, but what else is he up to?
5 Can Becker and Charlie ever be together?
'They've fallen for each other, but there's no knowing how the operation will go and they might never meet again. If they survive, they'd have to make some big decisions and compromises if they were to have a future together…'
Get the latest updates, reviews and unmissable series to watch and more!
Thank you for signing up to Whattowatch. You will receive a verification email shortly.
There was a problem. Please refresh the page and try again.