Living with the Brainy Bunch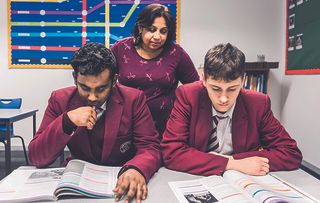 (Image credit: BBC/TwoFour)
Two teenagers try to improve their poor grades by moving in with a star student in the new documentary Living with the Brainy Bunch
Two teenagers try to improve their poor grades by moving in with a star student in the new documentary Living with the Brainy Bunch.
How much of what happens at school is linked to the home environment? Could a radical change in family life turn a tricky teen into a dream pupil?
That's the premise behind this one-off documentary, which takes two under-achieving 15-year-olds, who will be taking their GCSE exams in nine months, and places them in the homes of straight-A students.
For six weeks, disillusioned Hollie will move in with head girl Holly, and Jack, who has had over 100 detentions, will live with multi-lingual Tharush, who recently moved to the UK from Italy.
Will the strict family routines help focus the pair or frustrate all concerned?
Thank you for signing up to Whattowatch. You will receive a verification email shortly.
There was a problem. Please refresh the page and try again.