Mom and Dad - Sky Cinema Premiere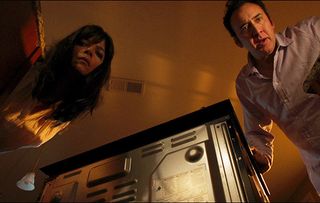 A future cult movie in the making, this ferociously dark horror comedy stars Nicolas Cage and Selma Blair
A future cult movie in the making, this ferociously dark horror comedy stars Nicolas Cage and Selma Blair.
They play ordinary middle-class parents, prey to everyday frustrations and disappointed dreams yet just about able to keep a lid on things when it comes to their stroppy teenage daughter (Anne Winters) and 10-year-old brat of a son (Zackary Arthur).
Until that is, in a deliciously twisted premise and for reasons the movie never fully explains, parents across the USA abruptly feel the urge to kill their offspring – and, infected, they fall prey to the urge as well.
Writer-director Brian Taylor, co-creator of the outrageous Crank thrillers, goes similarly full throttle here. He gives us scenes of flipped-out mayhem happening throughout the town before everything kicks off in Cage and Blair's household.
We wind up with the kids taking refuge in the basement from their demented mom and dad. Then things become even more violently fraught when Cage's parents (Lance Henriksen and Marilyn Dodds Frank) show up for a visit...
As ever, it is great fun seeing Cage wig out spectacularly. The surprise is seeing the usually cool Blair go ballistic, too.
This may well be a one-joke movie, but when the humour is this savage it really does stop you in your tracks.
Get the latest updates, reviews and unmissable series to watch and more!
Thank you for signing up to Whattowatch. You will receive a verification email shortly.
There was a problem. Please refresh the page and try again.