Monsters and Men - Sky Cinema Premiere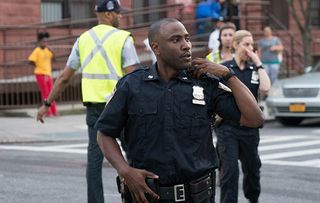 (Image credit: Spirit Entertainment)
John David Washington is among those caught up in events after a white police officer shoots an unarmed black man in Brooklyn
John David Washington is among those caught up in events after a white police officer shoots an unarmed black man in Brooklyn.
Catching the spirit of Black Lives Matter, writer-director Reinaldo Marcus Green makes an impressive debut with this timely crime drama, which tackles the burning issue of police violence in a low-key but quietly powerful manner.
The plot follows the moral dilemmas faced by three otherwise unconnected characters because of the incident outside a grocery store. African-American cop Washington feels torn between his loyalty to the force and his sense of justice. A young Latino father (Anthony Ramos) has captured the shooting on his phone, but fears releasing it will jeopardise his new job in Manhattan. Meanwhile, teenage Major League baseball hopeful Kelvin Harrison Jr needs to keep his head down to secure his professional future, but finds himself increasingly unable to quell his outrage.
Using documentary-style camerawork to follow his protagonists, Green links their stories with unobtrusive care and lets the viewer supply the indignity.
Thank you for signing up to Whattowatch. You will receive a verification email shortly.
There was a problem. Please refresh the page and try again.