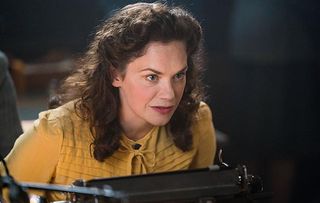 (Image credit: BBC/©WP Films Ltd)
Ruth Wilson on playing her dad's mother in a new BBC1 drama about espionage, bigamy and betrayal…
Ruth Wilson is no stranger to an emotional role, but portraying the marital turmoil of her own grandmother takes some beating.
The Luther star puts in a powerhouse performance as Alison who, in the 1960s, is left reeling when she discovers that her recently deceased husband Alec had still been married to another woman.
As Alison tries to find out whether her whole life has been a lie, she looks back over her early days with the charming Alec.
As the twists and shocking revelations keep on coming, you'll have to remind yourself that this really happened.
The plot follows Alison as she uncovers more startling revelations about Alec's personal life.
The three-parter also stars Iain Glen (Game of Thrones) as Alec and Keeley Hawes (Bodyguard) as Dorothy, another woman from Alec's past.
TV Times chatted to Ruth, 36, on set in West London during a break in filming to find out more about this very personal project…
Why did you want to turn your grandparents' story into a drama? I was amazed that this story existed in our very ordinary family. My granny wrote a memoir and let us read the first part about 20 years ago. That covered her falling in love with Alec and finding out about his betrayal. It's beautifully written. When I told people about it they'd say, 'Wow, you should make that into a drama,' and my family wanted me to do it, too. So seeing the clapperboard on set with 'Mrs Wilson' written on it and thinking, 'We're making this now,' is amazing.
Is it strange playing your own grandmother in this drama? I had to get the big Queen-like hair right – she had the same hairstyle from the 1960s until the 2000s! It's the toughest role I've done and giving birth to my own dad was weird! Sometimes I wish someone else had played her – probably Claire Foy – so they'd have distance from it. But it has been an extraordinary experience. I felt like she passed through me.
What reaction does Alison have to her discovery of Alec's bigamy? It's horrific. She's broken because everything she thinks about her life is a lie. But she was always on shifting sands about whether what Alec was saying was true. So when she found out he was married to someone else, everything she'd doubted came to the fore.
We also see Alison delve into Alec's work as a British spy – were you intrigued by that? Yes, what his role was in the secret service is still up for grabs because, even after 70 years, the files are case-sensitive and can't be released. So we don't know what he got up to and if these marriages were for work or for love. He remains a man of mystery; we still don't know the truth. I wouldn't be surprised if more relatives appear after the show!
TV Times rating: *****
Get the latest updates, reviews and unmissable series to watch and more!
Thank you for signing up to Whattowatch. You will receive a verification email shortly.
There was a problem. Please refresh the page and try again.