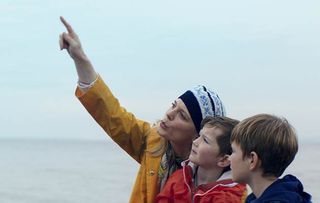 (Image credit: SKY ©ACRES AND ACRES LIMITED 20)
Rafe Spall and Emilia Fox are touchingly down to earth in this first-class weepie
Rafe Spall and Emilia Fox are touchingly down to earth in this first-class weepie.
Based on Somerset paramedic St John Greene's best-selling book, it follows his late wife Kate's battle with breast cancer and the list of hopes and plans she wrote for her two young sons in the weeks before she died.
Writer-director Niall Johnson handles the couple's story with deft care, cutting adroitly back and forth between three time periods - one strand the progress of Kate's illness, which cruelly occurred shortly after their eldest son, Reef, had narrowly survived a rare form of cancer; another, the efforts of the bereaved St John, known as Singe, to cope with the loss of his wife, and the third the pair's guileless teenage romance after meeting at a rollerskating rink.
The result is a film that is unpretentious without being dull, moving without being mawkish, and sweet without being sentimental.
Fox is superb as the stoic Kate, while the scene at a dinner party in which Spall's Singe likens the pain of bereavement to struggling against the sea's undertow will knock you off your feet.
Get the latest updates, reviews and unmissable series to watch and more!
Thank you for signing up to Whattowatch. You will receive a verification email shortly.
There was a problem. Please refresh the page and try again.