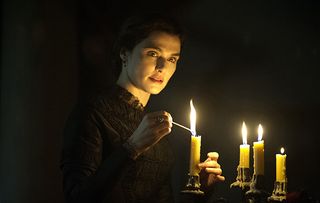 (Image credit: © 2016 Twentieth Century Fox Fi)
A glossy version of Daphne du Maurier's romantic Gothic mystery, set in 19th-century Cornwall, starring Sam Claflin and Rachel Weisz
A glossy version of Daphne du Maurier's romantic Gothic mystery, set in 19th-century Cornwall, starring Sam Claflin and Rachel Weisz.
Claflin plays the tale's callow young hero, orphan Philip Ashley, who suspects foul play after his beloved guardian dies abroad following his marriage to the eponymous Rachel (Rachel Weisz).
When she arrives at the large estate he is due to inherit on his 25th birthday, he resolves to expose her guilt - but finds himself falling under her spell instead.
Writer-director Roger Michell keeps us in a state of uncertainty as the melodrama, previously filmed in 1952 with Olivia de Havilland and a young Richard Burton, unfolds.
Is Weisz's enigmatic femme fatale a scheming vixen or simply an unprotected, penniless widow? What exactly are the ingredients of those herbal tisanes she likes to prepare? And why does drinking them give you a headache?
Michell leaves us guessing as Claflin's impulsive protagonist wavers peevishly back and forth in a drama that, despite Weisz's subtle actorly wiles, is surprisingly underpowered, with its simmering passions never fully coming to the boil.
Get the latest updates, reviews and unmissable series to watch and more!
Thank you for signing up to Whattowatch. You will receive a verification email shortly.
There was a problem. Please refresh the page and try again.