An Ordinary Man - Sky Cinema Premiere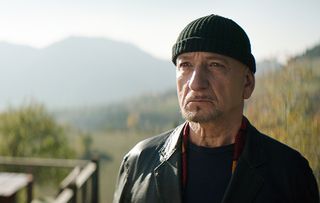 (Image credit: Electric Entertainment)
Played with bristling charisma by Ben Kingsley, the eponymous protagonist of this unusual chamber drama is anything but ordinary
Played with bristling charisma by Ben Kingsley, the eponymous protagonist of this unusual chamber drama is anything but ordinary.
Referred to only as The General, he is a notorious Serbian war criminal, on the run for years but hiding in plain sight in the heart of Belgrade.
The arrival of a young maid (Hera Hilmar) at his latest safe house provides a welcome distraction, and a sounding board. But what exactly is she doing there..?
Writer-director Brad Silberling leaves us in suspense for about half the film, but it is Kingsley's mesmerising turn rather than any plot dynamics that keeps us engaged.
Polish cinematographer Magdalena Górka's beautifully framed images prevent what is effectively a two-hander from becoming airlessly claustrophobic, but the film's ethical vagueness may prove a turn-off to some viewers.
Thank you for signing up to Whattowatch. You will receive a verification email shortly.
There was a problem. Please refresh the page and try again.