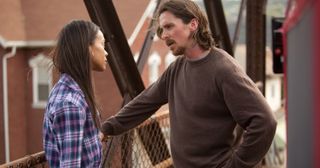 (Image credit: Kerry Hayes)
A powerful revenge drama about a pair of blue-collar brothers (Christian Bale and Casey Affleck) battered by fate in a dying rust-belt town in Pennsylvania
A powerful revenge drama about a pair of blue-collar brothers (Christian Bale and Casey Affleck) battered by fate in a dying rust-belt town in Pennsylvania.
Bale plays a doggedly loyal, morally upright steel worker who is striving to stand by his reckless younger brother Affleck, a troubled Iraq war veteran.
Mired in gambling debts, he has become entangled with a violently psychopathic backwoods crime boss - played with terrifying menace by Woody Harrelson - who cooks up crystal meth and stages bare-knuckle fights in the Appalachian hills.
You just know things will end badly in this almost unrelentingly grim tale, but the cast's powerhouse performances keep you gripped, as does the film's vividly atmospheric sense of place.
Bale, Affleck and Harrelson are mesmerising and the supporting cast is terrific, with Willem Dafoe, Sam Shepard, Zoë Saldana and Forest Whitaker all making an impact.
Thank you for signing up to Whattowatch. You will receive a verification email shortly.
There was a problem. Please refresh the page and try again.