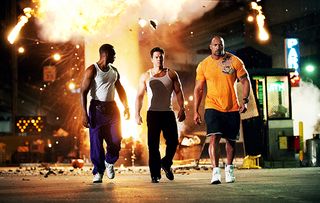 (Image credit: Jaimie Trueblood)
Mark Wahlberg, Dwayne Johnson and Anthony Mackie star as inept bodybuilders and kidnappers in this funny but violent crime comedy
Mark Wahlberg, Dwayne Johnson and Anthony Mackie star as inept bodybuilders and kidnappers in this funny but violent crime comedy.
Based on a true story, in which the inept trio went on a kidnapping and extortion spree in the 1990s, this lurid crime comedy from director Michael Bay is as excessively pumped-up as you would imagine, a berserk, overblown action movie.
Miami personal trainer Daniel Lugo (Wahlberg) is the, ahem, mastermind behind the nefarious schemes of the Sun Gym gang (so called after the gym where he worked). Steroid addict Adrian Doorbal (Mackie) and born-again ex-con Paul Doyle (Johnson) are his equally clueless henchmen. All three have over-developed bodies and under-developed minds. No wonder their criminal racket is hopelessly addled.
Lugo is desperate to start living the American dream and it's after listening to a motivational speaker's get-rich-quick advice that he comes up with the gang's plan, which is to snatch a wealthy client (Tony Shalhoub), keep him captive and force him to sign over his assets. Unsurprisingly, the project unravels almost as soon as it begins, leading the trio to take ever more brutal and chaotic steps to achieve their goal.
You couldn't make it up. And Bay hasn't. Save for changing characters' names and combining some real-life people into composite figures on screen, he stays broadly faithful to the exploits of the actual gang as outlined in a series of articles by Miami journalist Pete Collins. Whether you like what he has done with the story is another matter. There's no denying he gives the tale a cartoonish energy and satirical fizz, but some viewers may find his darkly comic portrayal of the gang's violence hard to stomach.
Get the latest updates, reviews and unmissable series to watch and more!
Thank you for signing up to Whattowatch. You will receive a verification email shortly.
There was a problem. Please refresh the page and try again.