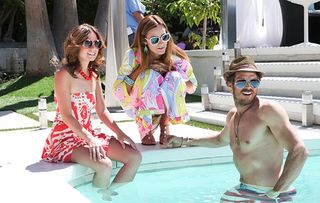 (Image credit: 2017 Swing Set Productions, LLC.)
Sugar Lyn Beard and Jackson Davis play a young married couple in this indie comedy drama exploring the ups and downs of swinging
Sugar Lyn Beard and Jackson Davis play a young married couple in this indie comedy drama exploring the ups and downs of swinging.
The couple move to the desert town of Palm Springs, but never expect things will get so hot. But they have barely unpacked before their flirtatiously friendly new neighbours - played by Diane Farr and Chaka Forman - have invited them to dip their toes into the polyamorous lifestyle.
Against expectations, it's Davis' philosophy professor husband, Mark, who gets cold feet, while Beard's photographer wife, Allison, enthusiastically takes the plunge.
Beard's look of squeaky-voiced innocence makes her sexual adventures all the more surprising, but the film's narrative takes a more conventional and conservative turn later on.
Thank you for signing up to Whattowatch. You will receive a verification email shortly.
There was a problem. Please refresh the page and try again.