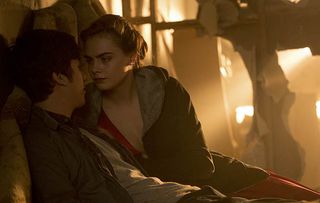 (Image credit: Michael Tackett)
In her first leading role, Cara Delevingne is perfectly cast as a free-spirited Florida teen who disappears
In her first leading role, Cara Delevingne is perfectly cast as a free-spirited Florida teen who disappears.
She's left enigmatic clues to her whereabouts and her dorky, hero-worshipping neighbour Nat Wolff is determined to solve them. So he and his pals set off on an epic road trip across the States to find her.
It takes Delevingne's puckish charisma for us to believe that this oddball bunch would embark on such a trip for her, yet the mystery is engaging and Wolff and his joshing friends are amiable company.
Based on the novel by John Green, this enjoyable teen movie doesn't dig very deeply into the sadness behind Delevingne's flight and its overall mood is safe rather than edgy.
However, it does effectively capture that strain of bittersweet yearning and nostalgia peculiar to adolescence.
Get the latest updates, reviews and unmissable series to watch and more!
Thank you for signing up to Whattowatch. You will receive a verification email shortly.
There was a problem. Please refresh the page and try again.