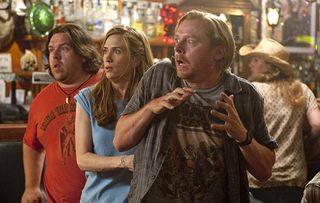 (Image credit: Photographer: Wilson Webb)
Writer-stars Simon Pegg and Nick Frost play nerdy British sci-fi fans touring Ameirca's UFO hot spots
Writer-stars Simon Pegg and Nick Frost play nerdy British sci-fi fans touring Ameirca's UFO hot spots.
In this genial, very funny comedy and affectionate send-up of Steven Spielberg's E.T. The Extra Terrestrial, they run into a pot-smoking, beer-drinking alien (voiced by Seth Rogen), who has just escaped from a top-secret government facility.
The Brits, joined by Kristen Wiig's naïve Christian, agree to help him in his quest to return home, but first they must outrun and outwit a trio of federal agents led by Jason Bateman.
The gags come thick and fast, as do the fanboy in-jokes and geeky film references.
Rogen is a hoot as the foul-mouthed alien and there are some great cameos, too - look out for an actress famed for an iconic sci-fi role and, yes, a certain esteemed director.
Get the latest updates, reviews and unmissable series to watch and more!
Thank you for signing up to Whattowatch. You will receive a verification email shortly.
There was a problem. Please refresh the page and try again.