Pirates of the Caribbean: Dead Man's Chest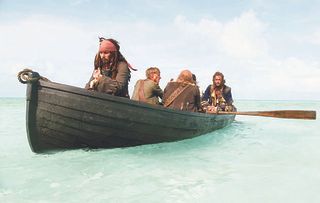 (Image credit: Photographer: Peter Mountain)
Johnny Depp's back as the eccentric Captain Jack Sparrow in this sequel to the 2003 smash hit
Johnny Depp's back as the eccentric Captain Jack Sparrow in this sequel to the 2003 smash hit.
This time, Depp - who makes a memorable first entrance - and his crewmates Will Turner (Orlando Bloom) and Elizabeth Swann (Keira Knightley) face a new threat in the shape of tenatcle-faced Davy Jones (Bill Nighy), who captains the ghostly ship The Flying Dutchman.
The film spares no time in propelling the viewer into a non-stop barrage of undersea monsters, voodoo rituals, cannibal attacks, slapstick comedy routines and gravity-defying action sequences. Does any of this make any sense? Not really. Does it matter? Not really, because it's a blast. The stars are a hoot, while Naomie Harris as a crazy soothsayer and Stellan Skarsgård as Will's long-lost dad also make their mark.
A great adventure and probably the best in the entire series, this gained four Oscar nominations and deservedly won for best visual effects.
Thank you for signing up to Whattowatch. You will receive a verification email shortly.
There was a problem. Please refresh the page and try again.